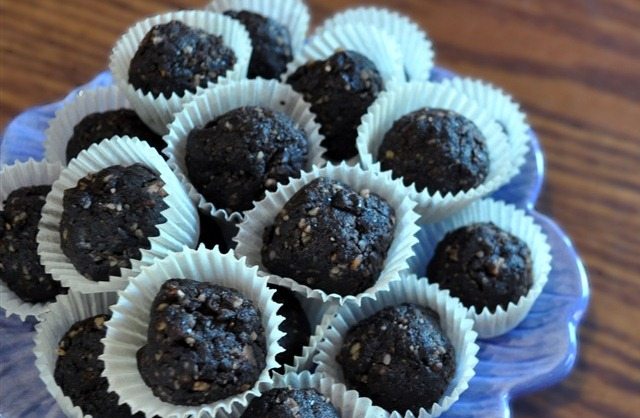 Sorry, Lara
Photo: courtesy of the recipe-writer herself. Visit her at http://chocolatecoveredkatie.com/ and prepare to be amazed :).
I know I've said it before, but it definitely bears repeating: moderation isn't really my thing. I stay up all night to read books or I never, ever finish them; I exercise intensely or not at all; I drink enough coffee to speed up my heart rate significantly or I abstain totally; and I eat a lot or… well, I suppose I always eat a lot. And when it comes to sugary things– namely ice cream and brownies and other chocolate-containing baked goods–I am utterly and totally willpower-less.
But every once in a while, my out-of-whack blood sugar (and my poor husband, who has to deal with my dessert-induced mood swings) cries uncle and reminds me that a little balance might be a good thing. A great thing, even. And so I periodically break up with (added) sugar with the hope that doing so will make me a better and healthier and easier-to-live-with person.
I am, however, a girl who loves an after dinner sweet. And if I only get one (sugarless) treat a day, it goes without saying that it has to be chocolate. So when I came across this amazingly and deliciously simple recipe (http://chocolatecoveredkatie.com/2009/10/13/make-these-now/) for homemade Larabars last August (incidentally, the last time I really decided to give up the white stuff. I lasted a month– yay?), I spent an inordinate amount of time testing out different variations in our Mississippi kitchen: dark chocolate with orange zest; dark chocolate with oats and walnuts; dark chocolate with pecans, coconut, and sea salt. I simply could not make them fast enough– and after I perfected my own tasty combinations, I could no longer justify paying two dollars per bar at the grocery store in town. And a few days ago, when I realized that it was time, once again, for a sugar detox, I made a big batch of these puppies using the original recipe and added in 1/2 serving of chocolate protein powder (I like whey and brown rice best) and subbed in peanut butter for the walnuts.
Then, as expected, I ate most of the mix as I was scooping it out of the food processor.
Moderation? Yep– totally not my thing. But these nutritionally balanced and truly delicious bars that take all of five minutes to make? These definitely are.
2 Responses to "Sorry, Lara"
So is the recipe on the site?! This is killing me! I too have problems with moderation and consider a life without chocolate not worth living. (Psst…Target is carrying Luna protein bars in a flavor called Cookie Dough. 180 calories, healthy and fabulous! If you can stop at one…)

Rebecca, follow this link: http://chocolatecoveredkatie.com/2009/10/13/make-these-now/. If it doesn't take you there, go to her site and click on the "recipes" tab and scroll down until you get to desserts– it's one of the raw recipes. So good! I'll have to look for those Luna bars– a cookie dough version sounds AWESOME! Thanks for the tip! Hope you guys are well :).